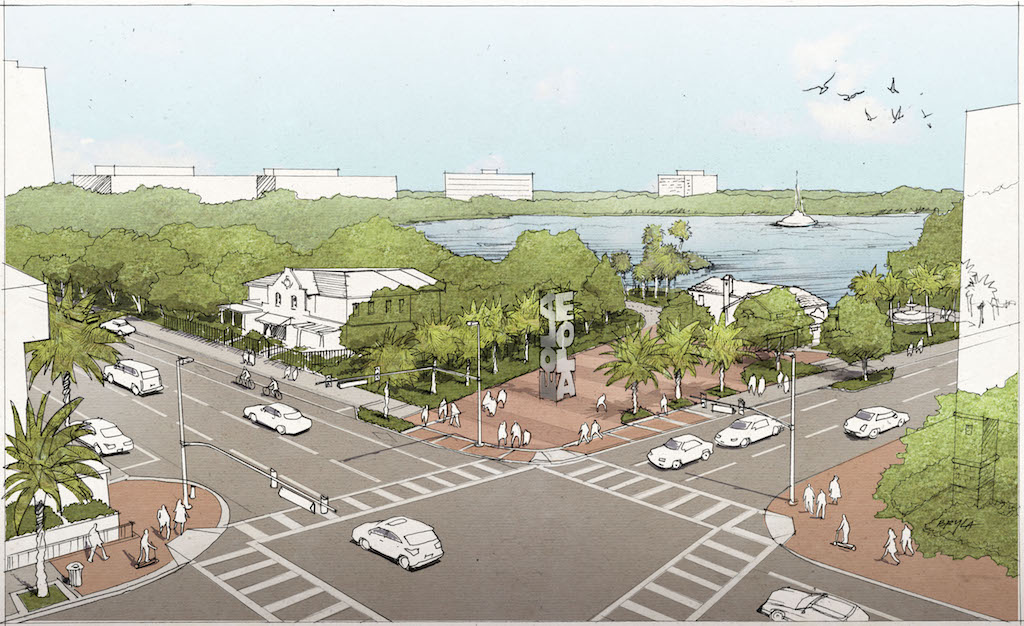 Announcing City of Orlando, CRA and the Orlando Land Trust Partnership!
This is a potential vision of the gateway.
Once the property has been deeded to the City, Lisa Early, Director of Families Parks and Recreation Department will host public forums to generate community ideas for the gateway.
On Monday, June 1st, the Orlando City Council voted on the Community Redevelopment Agency funding recommendation approving an equal match with the Orlando Land Trust for a private/public partnership.  The Trust for Public Land and the OLT joined together to raise the money for the purchase of the Murrell property located on the corner of Central Avenue and Rosalind Avenue. To date we have raised over one million dollars with $595 thousand remaining to complete the purchase of the property.
 
According to Ted Haddock, Chair of the Board of Trustees of OLT, "Although we love Lake Eola Park and there are so many great things about it, there really isn't one gateway into it. This corner is the prime spot. There is easy access and it faces the downtown business core." Commissioner Patty Sheehan, whose district includes Lake Eola Park, has contributed $50 thousand dollars toward the effort. These funds will be paid at closing. Commissioner Sheehan has been extremely supportive making the motion today to approve the CRA's recommendation.
 
The CRA will also provide the approved funds at closing when the title will be transferred to the CRA. OLT will make certain that the donated land will be deed restricted to be used as public park space in perpetuity. We are thrilled to be partnering with the City and enhancing Lake Eola Park.