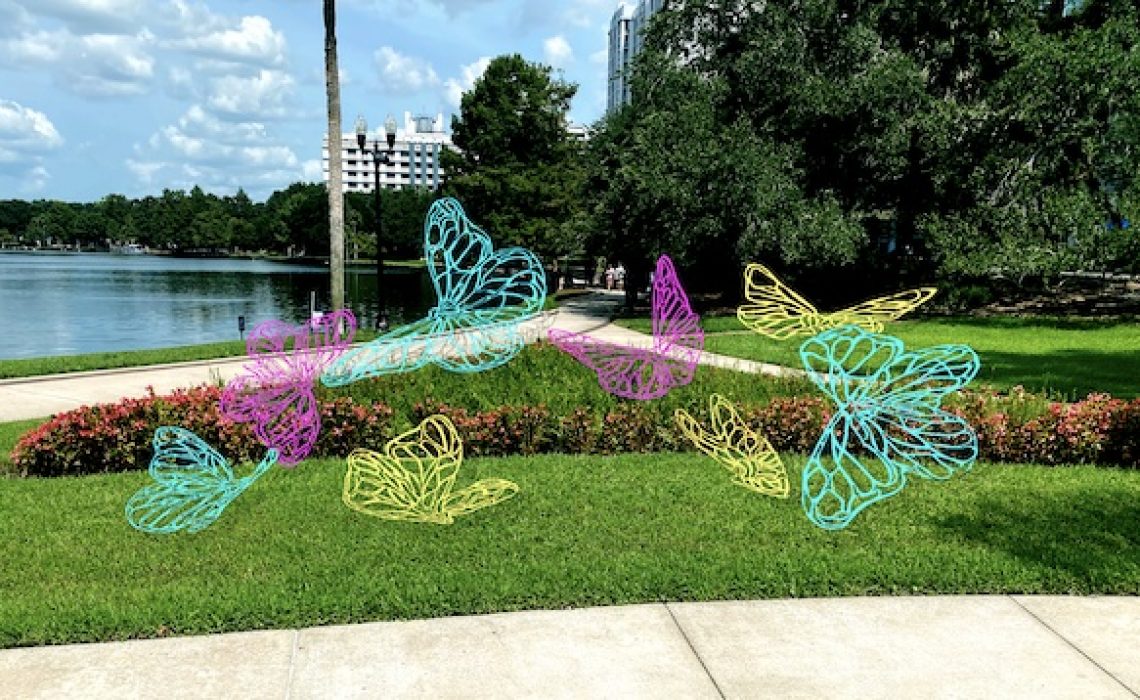 Orlando Land Trust celebrates grandmothers with sculpture and butterfly garden in Lake Eola Park
OLT Co-Founders Host "An Evening Under The Stars" and reveal new art piece
ORLANDO, FLA.  – Monday, October 18, 2021 – In gratitude for the remarkable support it received, Orlando Land Trust (OLT) will donate a sculpture and create a butterfly garden for Lake Eola as part of OLT's continuing commitment to preserve green space in Downtown Orlando.
OLT co-founders Lynn Long and Eugenia Sefcik, who refer to themselves as the "little old ladies" along with co-founder Ted Haddock, will celebrate their "Grandmother's Legacy of Love Campaign," which quickly generated $125,000 last year for their initiative to buy a small parcel of land and prevent it from being developed at Lake Eola. The overall funding goal they met was $3.25 million. A key donation included 1.625 million toward the effort from the City of Orlando's Community Redevelopment Agency. Additionally, the campaign funded the sculpture.
OLT will host "An Evening Under the Stars" event to thank key donors to the campaign they launched in 2019 to buy the small parcel of land at the corner of East Central Boulevard and North Rosalind Avenue where a convenience store stood.  After raising $3.2 million, OLT purchased the site and donated it back to the City of Orlando with the understanding that it will remain green space.
"The City of Orlando is committed to providing amenities that enhance the lives of all residents, ensuring that Orlando is a city for everyone," said Orlando Mayor Buddy Dyer. "I am thankful that the city could contribute to the fundraising effort and to Lynn and Eugenia for their dedication to secure this key piece of land near our Lake Eola Park, giving us the opportunity to expand the park's amenities with this new butterfly garden and sculpture that will be enjoyed for generations to come."
This invitation-only event will run from 7 to 9 p.m. Wednesday, October 20 when the sculpture rendering, designed by renowned local artist Barbara Sorensen will be revealed. The event will be held at Eola House, 512 S. Washington Street. District 4 City Commissioner Patty Sheehan, a strong advocate for OLT's efforts from the beginning, will speak and several other city commissioners are expected to attend.
As part of their overall campaign, the women implemented a fundraising effort appealing to grandmothers who were interested in protecting the quality of life for their grandchildren. They quickly raised $125,000. The new butterfly garden at Lake Eola for the Grandmother's Legacy of Love will honor over 400 grandchildren whose grandmothers donated to this initiative. Many of the children are 5th generation Orlandoans. The Orlando Land Trust worked for more than four months with the City of Orlando for the garden and sculpture to be included in the city's master plan process to reimagine the future of Lake Eola.
"It's the grandmothers in this community that really stepped up. We aren't just little old ladies, we are grandmothers who care about the future for our grandkids and that's who jumped in immediately after being asked to help," explained Lynn Long.
Orlando natives Long, Sefcik and philanthropist Ted Haddock, became alarmed at preliminary approval in 2015 of a 28-story mixed use, residential complex on the privately-owned corner property. The three teamed up to explore options to protect the property.  Upon confirmation as a 501C-3 non-profit, they partnered with the Trust for Public Land (TPL) whose mission is to protect land, acquire property for public space and create more public green space and parks across the country. The TPL held the property until OLT could make the final payment and take full ownership.
"We're more than just a couple of little old ladies who love this city and want to protect certain areas for the value they bring to this community's overall quality of life," explained Eugenia Sefcik. "We are proud to have made a difference that will affect so many and hopefully for generations to come. That is what has driven us."
"Never in our wildest dreams did Eugenia and I imagine that we would take this effort so far and so broadly," said Lynn Long. "We continue to support protecting green space at Lake Eola and this sculpture should serve as a constant reminder of the importance of family and community."
The OLT's inaugural Board of Trustees includes philanthropist Haddock, who serves as board chair, former Orlando mayors Bill Frederick and Glenda Hood, J. Charles Gray, Steve Goldman, Chas. Bailes, Dr. Leslie Kemp Poole, Mark G. Line, Long and Sefcik.
For information about Orlando Land Trust or to donate, visit: www.orlandolandtrust.org
Distributed by:
Sara Brady Public Relations
P.O. Box 1299
Winter Park, FL 32790
sbrady@sarabradypr.com