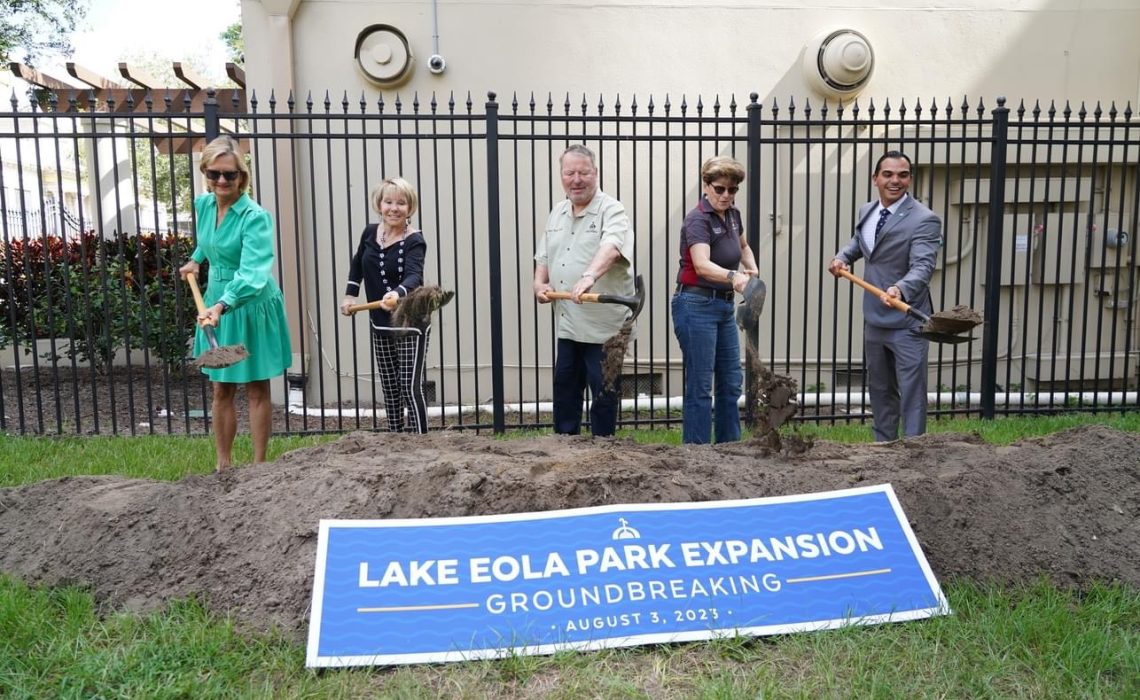 Orlando leaders break ground on Lake Eola 'pocket park'
Lake Eola Park expansion should be complete in fall, city says.
ORLANDO, Fla. – Orlando Mayor Buddy Dyer joined District 4 City Commissioner Patty Sheehan and others to hold a groundbreaking ceremony Thursday morning for a pocket-sized expansion of Lake Eola Park.
A news release described how $3.25 million raised in partnership with the Orlando Land Trust and another $1.625 million in Community Redevelopment Agency funding — or $4.875 million total — is reportedly what it cost to acquire the property and donate it to the city.
According to Lynn Long, vice president and treasurer of the Board of Directors of the Orlando Land Trust, the effort seeks to maintain and preserve green space in downtown in order to improve city dwellers' quality of life.
"Our first project was to acquire the land we're on today so that it could be donated to the city of Orlando and remain green space in perpetuity. We were honored to partner with the city to make this endeavor a reality. I want to thank Mayor Dyer and Commissioner Sheehan for their support and unwavering commitment to this project," Long said. "I also want to acknowledge the person who championed the vision of downtown Orlando for many years, the late Thomas Chatmon, former executive director of the Downtown Development Agency and the Community Redevelopment Agency. Without Thomas's support, guidance and dedication to downtown, we would not be standing where we are today."
FOX 35 was there when crews with the Orlando Land Trust began tearing down the building located at the corner of North Rosalind Avenue and Central Boulevard. The site had been approved for a high-rise project but was later abandoned.   
The foundation raised more than $3 million to cover the demolition and ultimately expand the green space at the park. The area will soon see other enhancements such as new landscaping, upgraded lighting, and improved streetscape treatments.
"This was phase one, and we always looked at this as phase one. This was the cornerstone. Without this piece, a 35-story building could be erected, and we did not want that to happen," explained Lynn Long, Orlando Land Trust co-founder."
Read Full Story at Click Orlando.